There are no translations available.
2009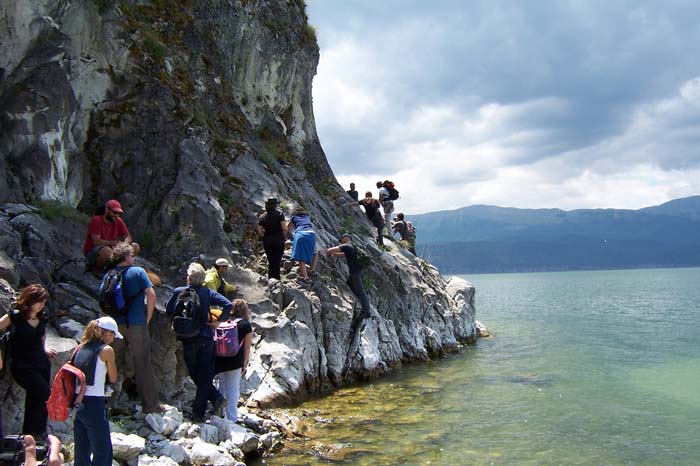 Coordinator: Yannis Ziogas
Artistic Coordinator: Mark Durdeen
Artistic/Organizing Committee: Filippos Kalamaras
Sophia Kiriakou
Nikos Panayotopoulos
Pinelopi Petsini
Maria Troullou
Visiting artists/lecturers: Aggeliki Avgitidou
Russell Roberts
Yorgis Yerolimpos
Dimitra Ermidou
Panos Kokkinias
Lina Theodorou
Educational Program: Penny Geka
Hiking Guide: Theodoris Fatsis
The aim of Visual March to Prespes 2009 was to develop, based on the experience of previous years contemporary artistic activities in the area of Prespes. It was decided that every year there will be an Artistic Committee an Artistic coordinator who will introduce a subject of that will be developed from the participants.
The participant for 2009 was the British artist and theoretician Mark Durden. Mark Durden has introduced the following thematic for Visual March to Prespes 2009:
Global Landscapes /Τα Παγκόσμια Τοπία
The topic considers current approaches to landscape. In particular it will consider the new sublime of a photography critically responding to the primarily destructive and negative relation we have with the natural world, including Edward Burtynsky's portrayal of our ruthless exploitation of natural resources, Joel Meyerowitz's landscapes of Ground Zero and Andreas Gursky's preoccupation with the spectacular fields of mass consumerism.
Instructors and students of the Department of Fine and Applied Arts, visiting artists and theoreticians, as well as art amateurs have wandered in the area around Prespes and have worked on the thematic Global Landscapes. They also attended lectures, and have further developed the contemporary framework of visual art activities that was established the two previous years. The framework for Visual March to Prespes 2009 was consisted of:
-Six Days of Action (Tuesday June 23rd to Sunday June 28th)
-Three Days March (Friday June 26th to Sunday June 28th)
-Conference (Sunday June 28th)
The artworks created from the participants during the process have shaped a nucleus of ideas as well as of actual works that initiated in Prespes a Contemporary Sculptural Park.  This momentum will transform Prespes into a workshop of ideas without borders, into a place-frame where nomadic activities will shape visual artworks, as well artworks of other disciplines, that will record activities of meetings, exchange of ideas and of creativity. The area will be transformed into an absolute field where there will be tested the ideas and possibly the convictions that shape the international contemporary scene. Prespes will be transformed into a Museum without borders, where the only walls and limits will be people's intentions.
.
The total number of the participants (instructors, students, visitors) was 52.